Roughly three-quarters of Haitians are either unemployed or trying to make ends meet with 75% of Haiti's people living in abject poverty.
Haiti has long been the poorest country in the western hemisphere. After the 2010 earthquake that killed over 200,000 people, destroyed infrastructure, and left 1.5 million people homeless— the country became further entrenched in poverty. Many Haitians frustrated and unable to provide for their families leave the rural areas seeking jobs in the capital city Port-au-Prince.
South Florida Haiti Project is committed to partnering with the Bondeau leadership to find ways of economic sustainability for the community.   This is not a quick or easy journey; however, it is one that the Haitian leadership has made a priority.  Their dream is to be able to support themselves without dependence on others… with strong leadership and commitment they are progressing on that journey.  SFHP is honored to be a partner beside them.
Through education and economic projects, Bondeau leaders want to offer their community ways to work… ways to provide for themselves and their families… ways to live out their dreams of being self-sufficient and fulfilled.  Already, there are 4 graduates of Bon Samaritan School that are now teachers!
The latest exciting project holds great promise—The Chicken Broiler Project.  The Haitian community requested this project specifically and has complete leadership for it with training and guidance from Food For The Poor.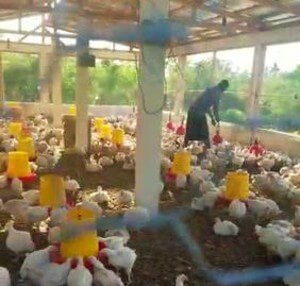 Another simpler project is Bondeau Bows for older girls in the secondary school.  Learn how these girls are earning money to further their education.